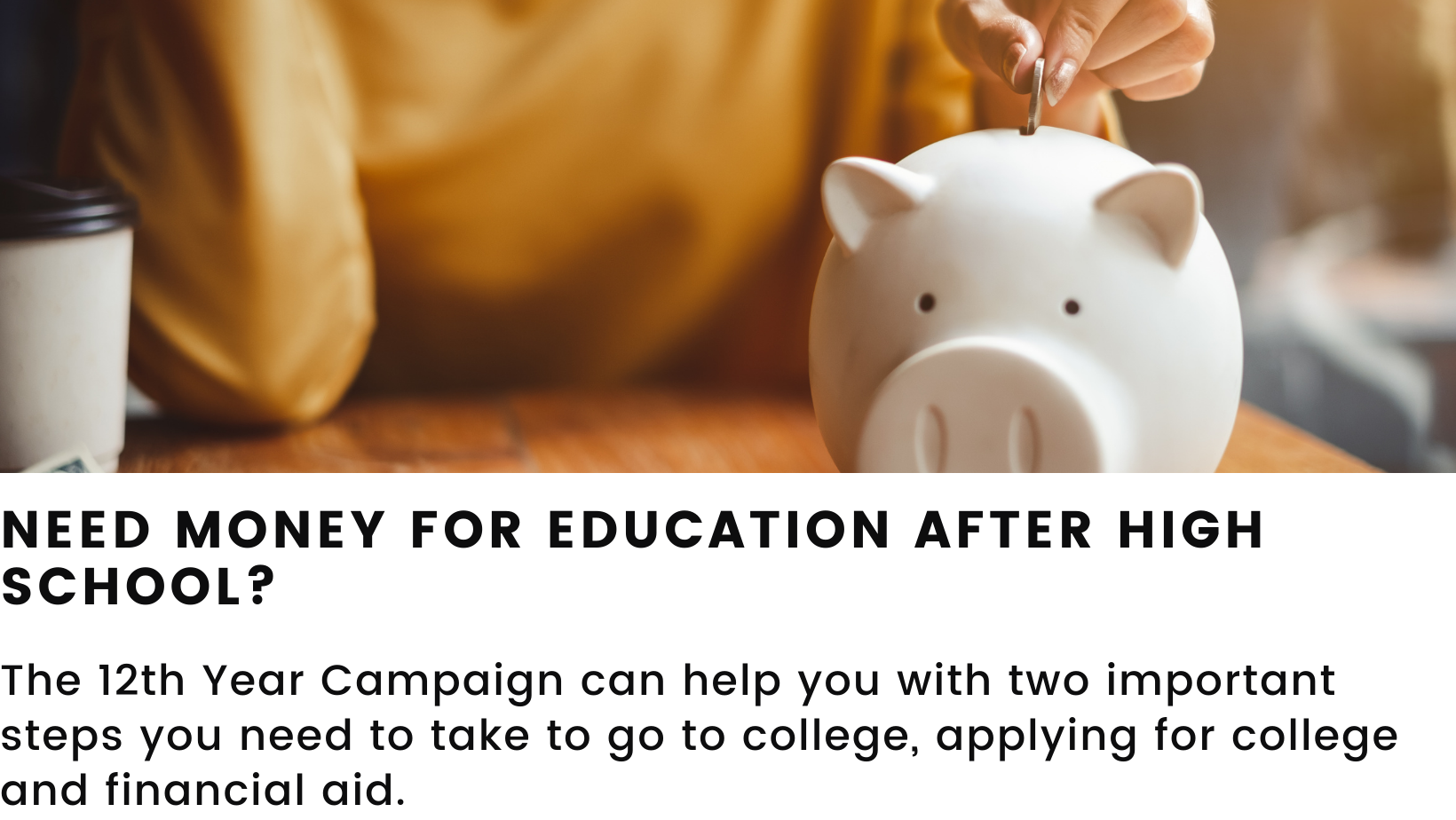 After applying for admissions to your post-high school options, file a Free Application for Federal Student Aid (FAFSA) or Washington Application for State Financial Aid (WASFA).
---
Check out the 12th Year Campaign Student Workbook and the handouts below for high school juniors and seniors. They will guide you through the college admissions and financial aid application process. 
---

FEDERAL FINANCIAL AID APPLICATION
WASHINGTON STATE FINANCIAL AID
Washington College Grant
INFORMATION FOR UNACCOMPANIED HOMELESS YOUTH/STUDENTS IN FOSTER CARE
Fostering College Knowledge. If you have been in foster care at any time after age 13, money and resources are available to help you go to college - including vocational training, 2-and 4-year options - for most Washington State schools. 
SchoolHouse Connection. Have you experienced homelessness? Are you considered an unaccompanied homeless youth?  Find resources to help you pursue your path after high school.
http://independence.wa.gov This website is for foster youth. It contains info on college access, scholarships specifically for youth in foster care, jobs, housing, self-advocacy, and more. 
SCHOLARSHIP SUPPORT
Scholar Snapp. This free tool helps students can save time by reusing their information — including contact details, essays, transcripts, etc. — from one application to another. Students can fill out one application and simply import it or "snapp" it to their Scholar Snapp profile. 
UNDERSTANDING FINANCIAL AID
Big Future's Tools & Calculators. Includes tools to help you calculate college costs and compare your financial aid award letters. 
Family Resources. Easy-to-use resources from Reach Higher and the Common App. Available in English and Spanish. Learn about application fees, fee waivers, and financial aid. 
Financial Aid 101. Use this guide to learn how you can begin finding and applying for money to finance your education!