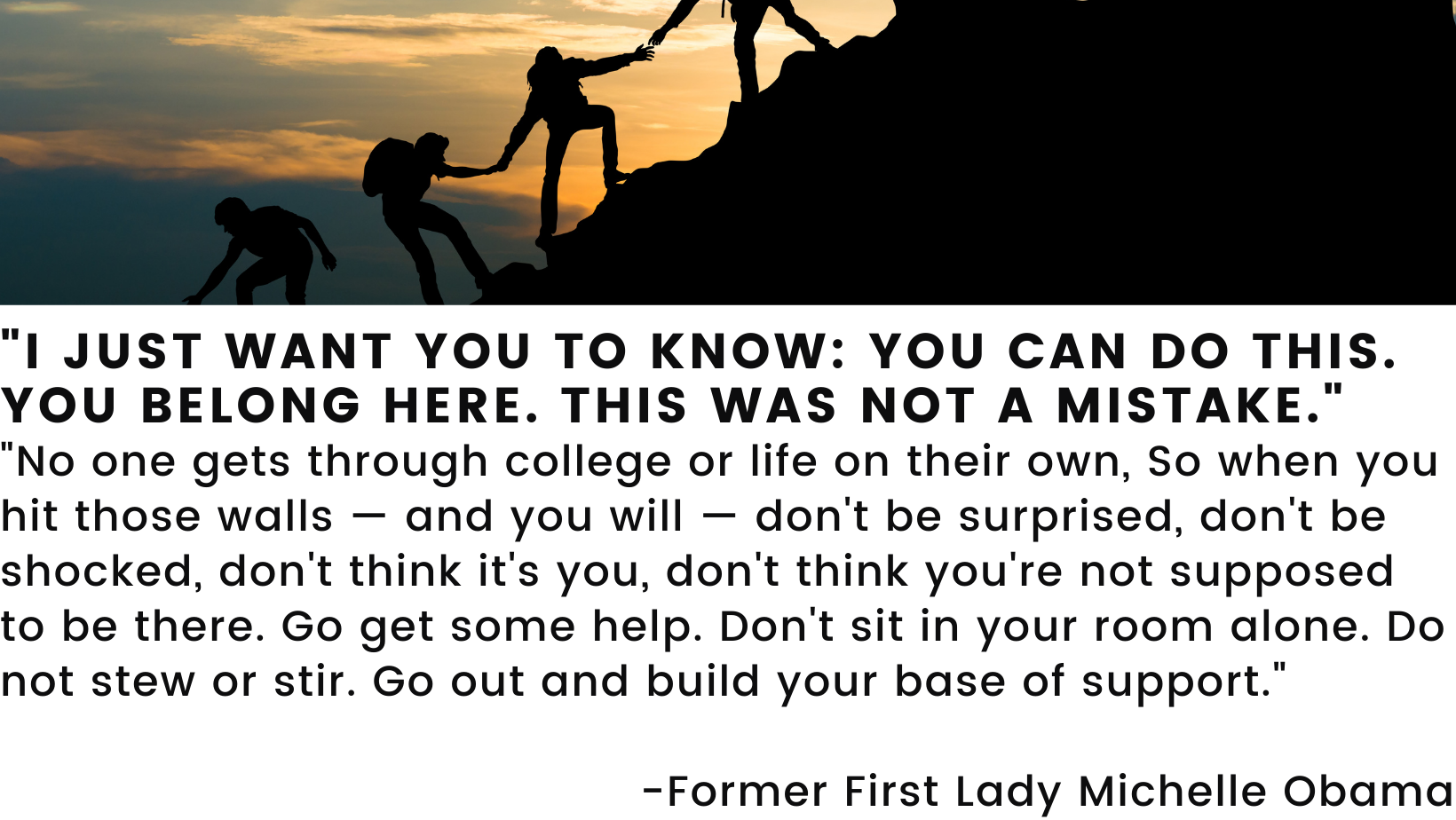 Successful students use a variety of available resources to build support systems. There are many free resources to help students transition to college and get personal, health, financial, and academic support. There is no shame, embarrassment, or anger in asking for help. You belong there, and the staff wants you to succeed. They have experience helping students overcome obstacles. Self-advocacy is a major key to success.
Get organized.

 

Stay on top of assignments and tests with a planner or calendar and keep loose papers in a folder or binder so nothing gets lost.
Get help.

 

Ask your teachers, classmates, parents, and siblings for support if there's something you don't understand.
Sit front and center.

 

Students who sit in the front have been shown to achieve higher average test scores.
Attendance matters.

 

Be sure to attend classes regularly.
Hang out with friends who work hard in school.

 

Research shows that good (and bad) grades are contagious, so choose your friends wisely.
Have a growth mindset.

 

Transitions are challenging for everyone. 
Read more about it. Working with Your High School Counselor and What's a Mentor and How Can I Get One?
Need help connecting to resources?

 

If you are in GEAR UP, you can email Annie, our GEAR UP Program Associate for Student Support Services (and friendly support navigator) to help you understand your options.
---

Considering A Gap Year? For current high school seniors, here is what you need to know about taking a gap year or deferring enrollment before making a decision.
Graduate Handbook: Next Steps for First-Year Students. This student guide contains information on critical next steps. Available in Spanish. 
A Family Guide: Supporting Your Child After High School. The purpose of this document is to provide support to families as their child transitions to college. (Available in Arabic, Chuukese, Marshallese, Russian, Somali, Spanish, and Vietnamese.)
Handout: Make Your College Plans a Reality. There are important steps that need to be completed over the summer for you to be able to enroll in the fall. The tasks listed are common to most colleges. (Available in Arabic, Chuukese, Marshallese, Russian, Somali, Spanish, and Vietnamese.)
Handout: Resources & Support Services to Navigate Your Way. This list identifies common student support resources found at college. Review your college or university's website. Identify what support you may need, and what is available on your campus.
Handout: Resource Scenarios. These are common scenarios that students encounter during their first year in college. 
Handout: Differences Between High School and College. For use with the Activity Guide-Preparing Students For The Transition To College.
Handout: Information for First-Year Students. This timeline includes examples of things students commonly face during their first year of college.
Growth Mindset for College Students. A free, evidence-based program designed to increase students' engagement, motivation, and ultimately success by laying the foundation for a growth mindset.
WOOP.  WOOP is a science-based mental strategy that people can use to find and fulfill their wishes, set preferences, and change their habits.