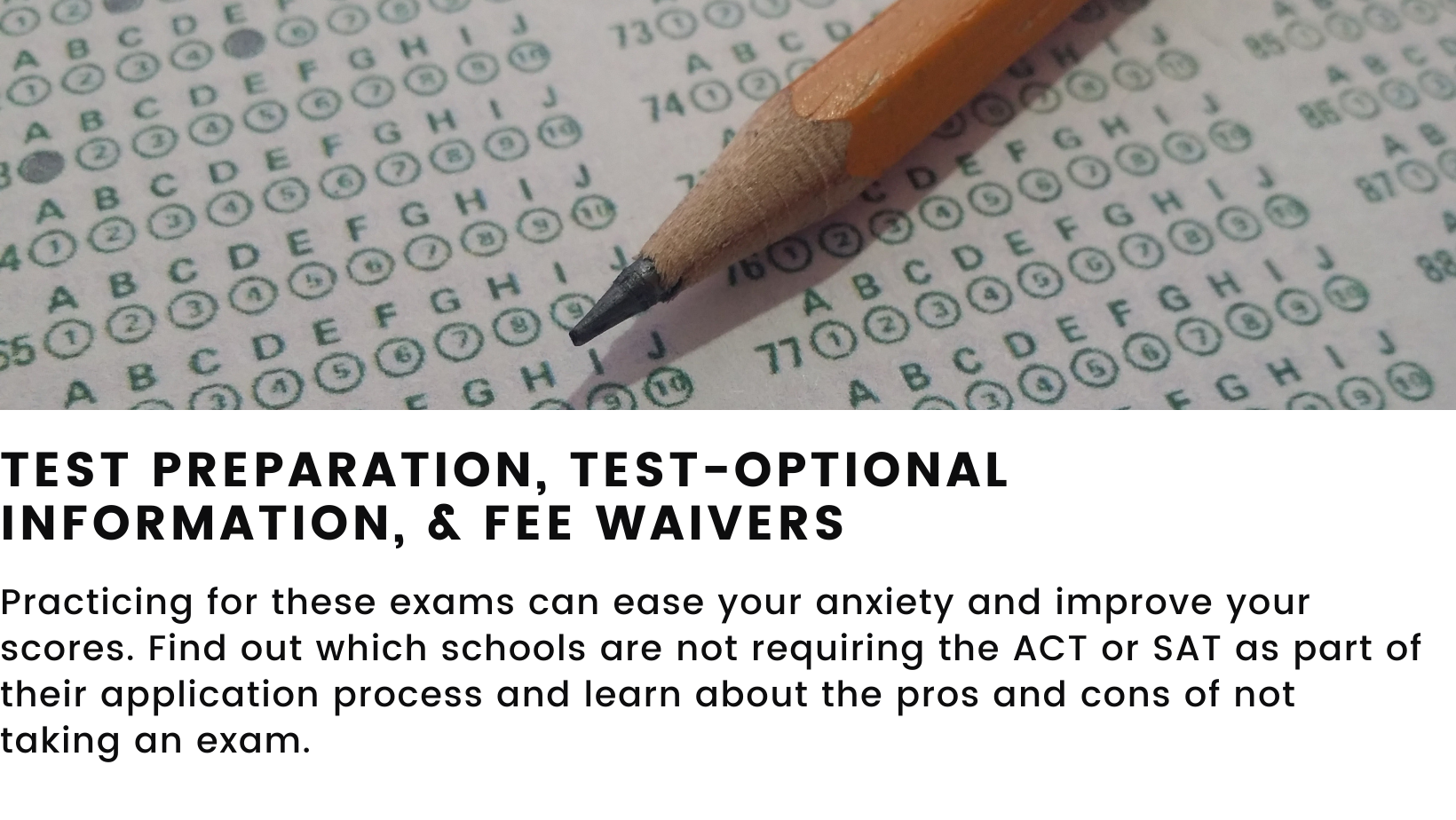 LOOKING AT TEST-OPTIONAL SCHOOLS?
https://gearup.wa.gov/educators/act-sat-test-optional-101
Find out which schools are not requiring the ACT or SAT as part of their application process and learn about the pros and cons of not taking an exam. 
ACCUPLACER
https://accuplacer.collegeboard.org/student/practice
The ACCUPLACER web-based study app features practice tests for each test subject. It is accessible from most devices with internet access and will help students become familiar with the content and format of the ACCUPLACER test questions.
Find an ACCUPLACER Test Center
https://accuplacer.collegeboard.org/students/before-test-day/find-test-center
If you're enrolling in a college which is not closeby, you might be able to take this test at a different and closer location. Check with the school where you plan to enroll first to make sure they allow you to test at a different location. 
ACT
ACT's free, online learning tool is designed to help students master the skills they need to improve their ACT scores and succeed in college and careers. 
Fee Waiver Information
www.act.org/content/dam/act/unsecured/documents/FeeWaiver.pdf 
ASVAB
http://official-asvab.com/applicants.htm
Learn more about the ASVAB and what the testing experience will be like.
PSAT/NMSQT
https://www.khanacademy.org/test-prep/sat/new-sat-tips-planning/new-sat-how-to-prep/a/full-length-psat-nmsqt
The College Board and Khan Academy® have partnered to make practicing easy and personal. At Khan Academy, you can access thousands of questions approved by the College Board, take official SAT practice tests, and create personalized study plans based on your results.
Taking an SAT practice test is good practice for the PSAT/NMSQT and PSAT 10 because the assessments measure the same skills and knowledge in ways that make sense for different grade levels.
Fee Waiver Information
Fee waivers are for low-income 11th-graders taking the PSAT/NMSQT.

Schools, not students, request fee waivers. Many schools cover all or part of the cost for their students. Ask your school counselor if you can get a fee waiver. 
SAT
https://www.khanacademy.org/sat
Students have access to a free, personalized practice program for the SAT through an exclusive partnership between Khan Academy and the College Board. Teachers can view progress and practice on Official SAT Practice for both their classes and individual students, making it easier than ever for teachers to support students in preparing for the SAT.
Fee Waiver Information
https://collegereadiness.collegeboard.org/sat/register/fees/fee-waivers